Singer's new clothing line, on sale this week, has ditched traditions such as catwalk shows.

A corseted Japanese denim minidress ($810), a cotton canvas blazer belted with a coordinating bumbag ($1,100), oversized sunglasses ($460) and a brass-and-crystal earcuff ($420) will go on sale at a pop-up boutique in the Marais district of Paris on Wednesday evening, when Rihanna launches her luxury fashion house, Fenty.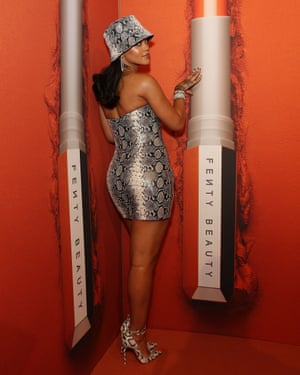 Rihanna's arrival in the luxury fashion space is a defining moment. Until now, celebrities who have tried their hand at design have faced the judgment of an industry that has held the power to endorse success or condemn a label to failure.


But the pop-cultural might of Rihanna, a nine-Grammy-winning pop star, actor and driving force behind Fenty Beauty, which totalled sales of €500m in the first year after its launch in 2017, has overturned the power dynamics of the fashion industry. The question now is less whether Rihanna can cut the mustard as a fashion designer than how the industry will keep pace with the arrival of Rihanna.


This week, Rihanna told the New York Times her Fenty label would be "as disruptive as possible. The brand is not traditional. There is no runway show. It's a new way of doing things because I believe that this is where fashion is going to go eventually."

The world's first look at Fenty came not on traditionally slender models, or on a catwalk, or during fashion week. Instead it is seen worn by Rihanna herself, and is being launched several months earlier than expected, well outside of the established fashion calendar.

The aesthetic will be informed by what Rihanna terms her own "thick and curvy" current body shape, with all pieces available up to a size 18. Fenty.com will be a "digital flagship" supported by a roving schedule of pop-up shops, with no plans for permanent bricks-and-mortar boutiques. Asked how she came up with the distribution model, Rihanna replied: "Because I'm a millennial … I hate seeing something on the runway and then having to wait six months for it." Ri Ri said.


Rihanna, who has made headlines for flamboyant fashion choices in the past, has here adopted a more refined point of view.
Credits: Rihanna/Fenty.
Gist Of the Day